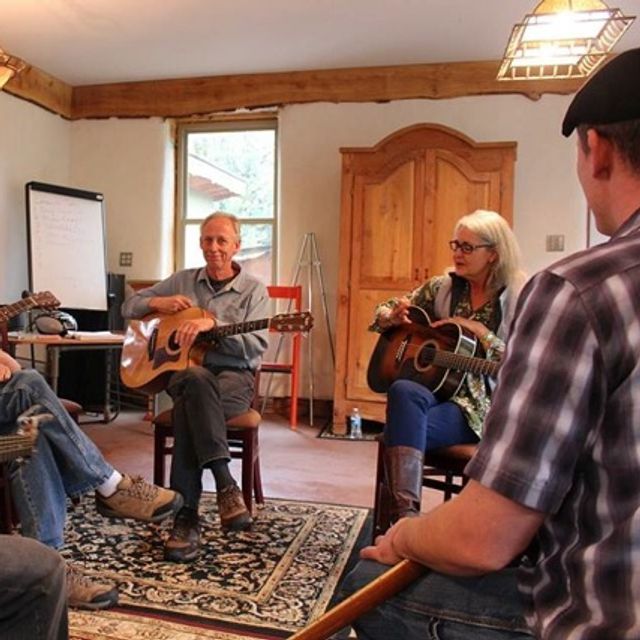 WORKSHOPS
Contact us for workshops and coaching for musicians in a wide variety of settings:
• UNIVERSITY AND PUBLIC SCHOOL COMMERCIAL MUSIC PROGRAMS
• BLUEGRASS, OLD TIME, TRADITIONAL AND FOLK ORGANIZATIONS
• PRAISE TEAMS
• COACHING FOR INDIVIDUAL BANDS AND PERFORMERS
The Hard Road Trio's years of performing combined with teaching experience, private and academic, bring a unique practical and artistic approach to acoustic music. They enjoy working with musicians in a variety of styles and abilities - and of all ages. 
Steve maintains an active teaching studio in Las Cruces, NM, working with not only mandolin but also guitar and banjo players. Anne also teaches a variety of instruments in Fort Sumner, NM; they both offer Skype lessons. Chris taught voice at New Mexico State University and the University of Texas at El Paso before getting involved in the acoustic music scene. Members of the Trio have taught their respective instruments and songwriting at Camp Bluegrass, Kaufman Kamp, Hill Country Acoustic Music Camp, Walker Creek Camp, Colorado Roots Camp, California Coast Music Camp, and now at their own Desert Night Acoustic Music Camps. 
Anne, Chris and Steve love music and love coaching players, singers and songwriters. With many miles and years of experience under their collective belts, they're prepared to provide the best possible guidance along your musical path.